Understanding Potential Natural Disaster Risks for Business Places & Mitigating Them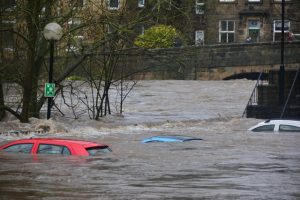 No matter how efficient your business is, natural disasters are always a looming threat. A single natural disaster can negatively impact a multi-floor building filled with blooming businesses, causing enormous risks and damages.
It is important to understand that not many businesses are able to reopen after a natural disaster because of poor assessment and mitigation strategies.
Let's discuss a few reasons why natural disasters can be incredibly risky to businesses, especially if they are unprepared:
Damage To Physical Property
Damage to business assets and physical property is perhaps the most prominent risk that a business goes through when a natural disaster strikes. A substantial amount of damage to assets can lead to failed business dealings and enormous bills. Other than assets or company building can also be damaged which includes furniture, computers, doors, as well as any inventory that it might hold.
If your office or business building is located in a marked flood zone, then your insurance plan may not cover it. It is essential to understand each nitty-gritty detail so that you are not left reeling in the impact of a natural disaster without any help.
Damage to Raw Materials
If natural resources come in the crossfires of a natural disaster, a company can face terrible organizational losses. This includes natural resources such as crops, wood, and any other element that a business may collect and store. In case of physical damage to natural resources, a business can precisely calculate how damaging it can be for their daily operations.
Supply Chain Disturbance
Disturbance to the supply chain is an indirect risk that a business may incur due to a natural disaster. Businesses rely on their supply chain management for several crucial tasks such as shipment of raw materials and production. If natural disasters such as a flood or a wildfire happen, it could delay shipments or even destroy production facilities that can indirectly impact the business's risks and losses.
Workforce Productivity Disruptions
Another loss or risk that a business has to bear in wake of natural disasters is loss of productivity. Due to severe weather, workers may not be able to attend their working shifts or operate at maximum productivity. Other than this, internet outages, power failures, and other similar issues can cause a decline in productivity leading to significant losses to the business.
Natural disasters can cause a ton of issues for businesses, both direct and indirect. This is why it is essential for companies and businesses to implement mitigation strategies and make risk management efforts their top priority.
By investing a particular amount of money for disaster preparedness can help them save way more with unpreparedness. Every business should consider the ranging impact of natural disasters that also include loss of sales. Preventative measures are an absolute must which is why a disaster mitigation and restoration company is a good way to go.
Mitigating Disaster Management Risks and Losses
Unpreparedness is a business's worst enemy especially when unpredictable factors such as natural disasters are involved.
A proper insurance plan and a damage restoration company as a contingency is a must to have in order to protect the business and minimize the severity of losses.
Experts from a damage restoration company can help you assess the risks in your building, office, or even warehouse so you can prevent things that you can control. However, if the conditions are unforeseen, a damage restoration company can also help in emergency service to get the company up and running.
Damage restoration companies deal with natural disasters such as floods, fires, hurricanes, tornados, etc. Their services range from water damage restoration, fire damage restoration, and mold removal to sanitization and other damage repair services.
Having a damage restoration company ready for an emergency can be a great contingency plan in case there is a threat or even a full-blown damage situation. Most damage restoration companies have a quick response time through which they can help out with your emergency as soon as it has occurred.
Through the latest equipment and comprehensive services, having a damage restoration company can help you get your business or office running again in no time!
Choose Comprehensive Damage Restoration Services For Your Business With 911 Restoration – Available 24/7, 365 Days A Year!
Assessing and protecting your business can be a bit of a challenge especially when natural disasters do not come knocking at the door with a warning in advance. Through choosing 911 Restoration Services, Memphis Metro can safely take care of any risks involved during natural disasters such as floods or wildfires.
Their impeccable damage restoration services can help businesses clean and restructure their property swiftly and efficiently because frankly, time is money – and the experts at 911 Restoration of Memphis Metro know that. They cover all areas of natural disasters and business risks such as flooding, mold infestation, leakage, pipe bursts, and so much more.