Protecting Employees from COVID & The Flu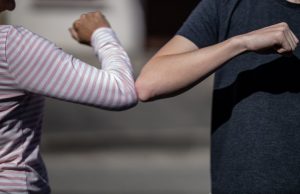 While the COVID-19 epidemic tends to pose extraordinary problems in our professional and personal lives, infectious diseases specialists anticipate that the upcoming flu season will be causing some of the greatest challenges we have faced in years.
In the next quarter, risk management teams may face additional problems maintaining employee wellbeing as they return to the workplaces post-pandemic.
This year, seasonal influenza poses a new danger to productivity and the possibility of increasing healthcare expenditures for many companies experiencing extraordinary problems. According to the National Council on Compensation Insurance, COVID-19 will increase compensation expenses in the United States by almost $81 billion.
Huge Risk for Medical Costs
Businesses, especially those with self-insurance, may also anticipate a 7 percent rise in their medical expenditures. Companies can reduce the effect of flu season by motivating employees to adopt the essential precautions to ensure their safety and help prevent any infection to their coworkers and families.
The COVID guidance will essentially promote employee wellbeing and help reduce the risk of virus transmission. We have to make an innovative financial plan to maintain a clean workplace and employee wellbeing now more than ever.
Here is post-pandemic workplace guidance for protecting employees from COVID and flu, which will ensure that your business is safe from the extra costs and enhance employee wellbeing:
1.     Provide Correct Information
There is substantial overlap in the perspectives of managing risk between practices to prevent seasonal flu and safety measures to avoid contracting COVID-19. Simultaneously, sorting out facts from opinions for both is tricky when there is so much knowledge and news. Most of the knowledge is contradicting to one another yet flowing through the media platforms.
Presenting your staff with relevant, evidence-based information on the precautions for seasonal flu and safety measures for COVID-19 and the flu will help to avoid the spread of these infectious diseases. It may enhance the credibility of the procedures you present to which workers are expected to follow.
A confirmed and authentic list of safety measures will also clear the doubt and confusion for the employees regarding what they need to follow and what they should ignore.  Businesses could also explore employing technology such as mobile apps and messaging services to deliver information to workers because they are more reachable and active on such platforms and likely to receive and read it.
2.     Seasonal Flu Shots
Harvard Medical School strongly advises everyone to get a flu shot and take the matter more seriously this year. We recommend getting the shot as soon as possible, and the ideal time would be before or at the beginning of the fall season.
However, if you are reading this mid-fall season, it's still not too late to get the shot! It is the best way to minimize flu cases and keep people other than COVID patients safe and away from the hospitals. Some of the employees display reluctance to get the shot due to some fears of contracting COVID by visiting healthcare facilities or having some misconceptions regarding the vaccines. Others are simply not prioritizing it enough to get time out of their busy schedule.
Workplaces need to address this issue and communicate the importance of getting the flu shot. They can also offer an on-site health care service of providing flu shots during working hours to the employees to ease the process and ensure their safety.
Another way of doing this would be giving a strict deadline to the employees to get the flu shot and provide a certificate to the workplace as a piece of evidence. Workplaces can also fine a penalty if they do not get the shot on time or at all.
In case the employee has a legitimate medical reason for not getting the shot, it would be better to ask them to work from home to ensure their safety and other employees' wellbeing.
3.     General Safety Protocol
This includes all the effective preventive measures such as working from home if sick, wearing a mask, screening for symptoms, sanitizing and cleaning the workplace regularly, using a sanitizer, and washing hands often.
Workplaces also must encourage social distancing and make sure the employee's workspace is at least six feet apart from one another. They can also install cubicles, so the employees have a physical barrier between them, preventing the transmission of air droplets from sneezing and coughing.
Even though these precautions appear to be very basic, they are one of the most critical tasks workers can do. Employers may emphasize the significance of handwashing by putting reminders throughout the building, providing extra hand sanitizing stations, and integrating frequent breaks during the day to allow for handwashing.
Conclusion
COVID-19 has become a huge problem in workplaces throughout the globe, but we have seen businesses rise and face it straight on. Post pandemic workplace guidance is the ultimate solution to ensure employee wellbeing.
Businesses need to form a culture that motivates healthcare management and provides relevant information and services for protecting employees from COVID and flu since they are a valuable asset to the company.
If you need any help with commercial property sterilization, get in touch with 911 Restoration of Memphis Metro today.