How to Make Your Home Hurricane Proof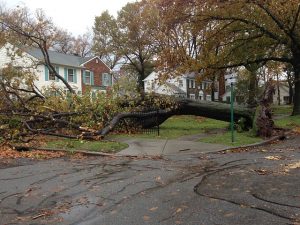 According to the National Oceanic and Atmospheric Administration (NOAA), hurricanes have caused the most death and destruction of all recorded weather disasters in the United States. In fact, the damages from weather disasters from 1980 to 2020 come to approximately $1.875 trillion. Since hurricanes can cause immeasurable damage to properties and even take lives, it's crucial to secure your home and make it hurricane-proof.
Take proactive measures and protect your property and family by following these tips.  While some are as simple as ensuring your gutters are clean, others are more costly. However, it's important to note that these up-front expenses will save your home from hurricane damage and minimize expensive disaster restoration.
Protect Your Doors and Windows
Windows are weak points that must be secured before hurricanes. Since hurricanes are known for sending objects flying and shattering windows, it's important to keep them in mind when taking hurricane precautions. There are different ways to do this, but it's essential to ensure that all doors and windows are fully protected.
One of the most popular methods includes installing hurricane shutters to protect you and your family from flying debris and rough winds. This is especially important considering hurricane winds can project objects and hurl them at you or your property. In addition to hurricane shutters, homeowners can also choose to use impact-resistant glass or board-up services for their doors and windows. Having these precautions in place protect your house from wind damage, water intrusion, and can even help with insurance premiums.
Secure Your Roof
Hurricanes are powerful enough to destroy buildings. Roofs are especially vulnerable because they're usually held down by gravity. To secure your roof to your house, invest in lateral anchors, hold-downs, or embedded connectors. All of these will help keep your roof where it belongs.
Another way to go is to replace your existing roof with one made from metal. Metal roofing is hurricane-proof and protects against high-impact winds, often up to 140 miles per hour. Those replacing their roofs can also consider using architectural shingles in place of traditional asphalt shingles. The former are thicker, heavier, and can resist high-impact winds up to 130 miles per hour.
Whether you choose to secure, repair, or replace your roof, it's important to get an inspection before a major hurricane. This ensures everything is as it should be and you're aware of any potential damage. A single weak spot or loose shingle can result in flooding, so having your roof maintained and inspected regularly is of the utmost importance.
Protect Your HVAC System
Another way of making your home hurricane-proof is ensuring that your HVAC system is maintained and protected. In addition to having professionals check the system and perform the necessary maintenance, you should use either a protective cage or hurricane straps to secure the HVAC system to the ground. While straps secure it to the ground, a protective cage keeps the system safe from loose debris and flying objects.
Secure Loose Items and Maintain Your Yard
It's also important to maintain your yard and keep it tidy. It should be free of debris, and your trees should be pruned, with any dead or loose branches removed. You should also remove outdoor furniture, grills, bikes, and gardening tools since these can become projectiles.
Other loose items include loose shingles on your roof, loose deck boards, and fencing. Fix these before the storm so that they don't become airborne and cause further damage. In the case of roof shingles, this is especially dangerous since they can become airborne and damage property, leaving your roof vulnerable to water damage and your home to flooding.
Prepare Your Basement
In addition to regular drainage, you can prepare your basement or crawl space for hurricanes by investing in a sump pump system. Backing up the system with emergency power makes this even more effective since your basement will not flood even if there's a power outage.
Clean Your Gutters and Downspouts
While it's important to keep your gutters and downspouts clean regularly, this is especially important before storm season. Remove all leaves and other debris from your gutters so that there's nothing to block water during a hurricane. If there's a blockage, the water will have nowhere to go and can cause flooding in your home.
Brace Your Garage Door
Your garage door is the largest entry to your home and its weak spot. Unless it's impact-rated, it can be blown in by powerful winds. If the wind enters the house, it can cause severe damage, including blowing off the roof. It's essential to install an impact-resistant garage door or invest in braces to secure the existing door. Options include vertical storm braces as well as removable metal panels.
Call 911 Restoration of Memphis Metro for Disaster Restoration
If you're in the Memphis Metro area and disaster strikes, don't worry. 911 Restoration of Memphis Metro can help with everything from water damage restoration to disaster restoration. We know that with our area so prone to hurricanes and storms, it's essential to have a fast response time. That's why the technicians at 911 Restoration arrive at your property within 45 minutes of your call.
Reach our IICRC-certified technicians at (901) 302-4949 or contact them here.