Water Damage in Shelby County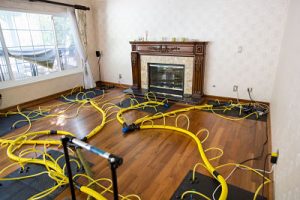 One of the largest concerns property owners in Shelby County face is property damage. Property damage comes in many forms and keeps everything from running smoothly. The most common form of property damage is water damage. Water damage can originate from a small leak that accumulates over time or from a burst pipe causing a need for flood cleanup. Regardless of how it starts, there is no disputing the devastating effects that water damage can have on your property.
When enough water is present you can face structural damage due to sheetrock crumbling or wooden materials warping. Plus, water is a known killer of appliances and any other electronic item. When facing water damage, you need professional water damage restoration.
The quicker you get water damage restoration to start the less likely you are to suffer from additional damage that water can bring. After as little as 24 hours, mold and fungi can start growing and spreading.
Water damage can strike at any time day or night. At 911 Restoration, we know that which is why we make ourselves available 24/7/365 for our Shelby County customers. We guarantee to arrive within 45 minutes of your phone call ready to begin work on your water damage restoration.
Call 911 Restoration today if you're suffering from water damage or a mold infestation in Shelby County. With us, you get unmatched service and Fresh Start you can count on from the beginning.
Navigating Your Water Damage Restoration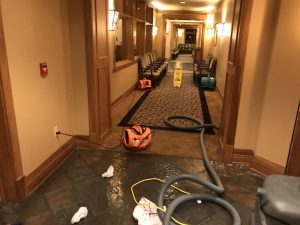 Water damage restoration can be a difficult process when left in unprepared and untrained hands. However, over the years we have honed our process to precision and deliver an unmatched customer experience from start to finish. Our Memphis customers know that with us, they get water damage restoration that is quick and stress-free.
Before we do anything else, we start with a visual inspection. During our visual inspection, we look for the full extent of the damage as well as the necessary repairs to get back to good as new. Once we have completed our inspection, we give you an action plan to approve. After your approval, we get to work immediately.
We combine our training with IICRC certification to deliver the best in class service for our customers. We only use the latest equipment and techniques to handle your water extraction. Our extraction and drying equipment will have your property completely dried out and ready for any repairs needed.
We ensure that we do a thorough job of drying out your property to ensure that you're not at risk for mold remediation. To help us get the job done right the first time, we use infrared technology to pick up what the naked eye can't see.
Prompt action can keep you protected when water damage strikes. Call 911 Restoration today for your water damage restoration and mold removal in Shelby County. Get the Fresh Start you deserve!
Pipe Bursts Lead to Flood Cleanup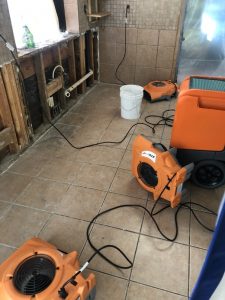 While there are many forms water damage can take, the most devastating is from a pipe burst. Water is constantly flowing through the pipes ready to help you wash your hands, run a shower, and keep your septic system running smooth. When a pipe bursts open the water has to go somewhere. When this happens, you can expect near instant flooding to occur.
In the event of flooding, you need nothing less than professional flood cleanup services. Besides the increase in structural damage, you are also at greater risk of health problems due to possible water contamination. The water in the pipes can be full of debris and dirt, which is classified as gray water. Also, if it is a septic pipe that bursts, then you run the risk of black water which has raw waste within the water. Raw waste is a class three hazardous material and should only be handled by trained professionals.
To keep the flood cleanup process safe, we don protective gear while removing the water. As part of our flood cleanup, we use commercial grade detergents and cleaners to decontaminate the immediate area. Our combination of water extraction equipment and industrial dryers will ensure that your flooded basement becomes a dry basement before you know it.
Keep in mind that water by itself can cause mold to grow. When that water level is high and is contaminated, the potential for mold growth skyrockets. That's why if you experience flooding you can't afford to wait in resolving the problem.
If you are suffering from flooding in Shelby County, call 911 Restoration today. We'll help you through the flood cleanup and mold remediation process from start to finish. Don't wait to get the Fresh Start you need!