Water Damage and Mold Removal in Messick Buntyn
Picture this: a pipe bursts unexpectedly on your property in the Joffre area. While it may not be top of your mind, the reality is that heavy rains and hurricanes can cause these kind of water damage emergencies when you least expect it. The best thing that you can do both for yourself and your property is to call 911 Restoration of Memphis Metro. The flood cleanup technicians are IICRC certified with years of experience, and they work hard to provide you peace of mind throughout the process. All water cleanup calls are responded to within 45 minutes, and they are available 24/7/365 to take your water remediation requests. Do the best thing to restore your property and contact 911 Restoration of Memphis Metro for your Fresh Start today.

Flood Cleanup Services That Go Above and Beyond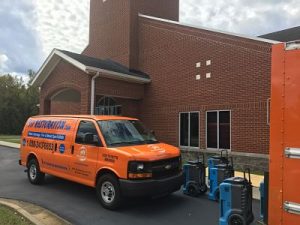 When a pipe bursts out of nowhere on the property in Lundee, it's easy to wonder what can happen next. The best line of defense is to contact the flood cleanup techs with years of experience under their belts. They conduct a complete restoration from top to bottom on your property, and you will be put first in all flood cleanup situations.

Whether a water leak occurs on your business or a pipe bursts on your property, the technicians have your back. Water damage restorations are conducted on both commercial and residential properties in the Midtown Memphis area. All of our techs are licensed, certified and bonded so you know that your property is in the best hands possible.

Hurricane damage is the last thing any property owner wants to think about, but it can happen in the Rangeline area. In certain instances, emergency storm repairs and emergency disaster restorations will be conducted. In addition, emergency roof repairs and boarding are also offered when needed. The restoration will not leave any area of your property harmed from the heavy winds and rains.

If you have a flooded bathroom or basement, do not delay. The water can also seep into unexpected areas such as crawl spaces after a frozen or burst pipe. If you're not sure who to call to repair your carpet after a home leak, you're in the right spot. 911 Restoration of Memphis Metro goes the extra mile during any flood cleanup to take care of your entire property.

If there is a flood on your property and you're not sure who to call, do the right thing and call the techs with years of experience. They will conduct an emergency water removal for all areas of the property including a flooded basement. For flood cleanup techs that put your needs first, call 911 Restoration of Memphis Metro today.

Mold Remediation Services That You Can Count On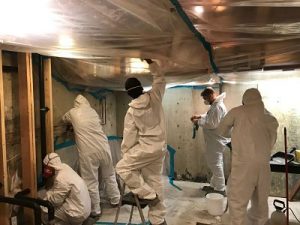 After discovering water in the crawl space, you may also spot a few spores of mold. Whether it is an existing issue or not, it's important to get it checked out immediately. Luckily, 911 Restoration of Memphis Metro also offers top-notch mold removal services to get your property back into tip-top shape in no time.

It may seem easy enough to try to scrub and remove the spores on your own, but the truth is that can make the issue much worse. If you spot mold in the basement or the shower of your property, do the right thing and call the remediation techs in Bethel Grove with years of experience. They will be in and out for the decontamination before you know it.

If you are wondering if you can even afford mold remediation services, you may be surprised. 911 Restoration of Memphis Metro accepts all forms of insurance, and even offers a free insurance consultation. A free visual inspect for property owners only is also offered.

Mold can decay your property, but the techs conduct the removal before that can happen. They do their best to provide you with a complete decontamination and restoration. In some instances, third-party testing is even used for certain inspections to get the best read possible. They even use infrared technology to find all the hidden spores and remove them promptly.

Mold remediation can be a stressful time, which is why it's best to go with removal techs that have your best interests in mind. The entire remediation is conducted with an optimistic attitude, and they put your needs first. Both you and your property will be treated to a Fresh Start. Call the deconomination techs that have your back at 911 Restoration of Memphis Metro.
Servicing the cities of Bartlett, Berclair, Bethel Grove, Binghampton, Bunker Hill, Cherokee, Cooper-Young, Downtown, Frayser, Hamilton, Harbor Town, Hawkins Mill, Joffre, Lundee, Medical District, Memphis, Memphis Metro, Messick Buntyn, Midtown Memphis, North Memphis, Orange Mound, Raleigh, Rangeline, Shelby County Water, Sherwood Forest, South Memphis, Uptown, Westside and surrounding areas.