Mold Removal in Shelby County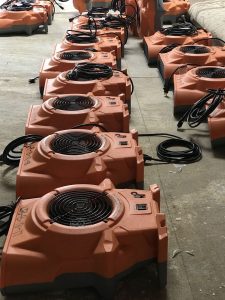 Thanks to its subtlety mold can be one of the most damaging forms of property damage that owners face. Over time your organic materials like sheetrock, carpet, and even support beams can be eaten by mold. In addition to the property damage, mold also compromises your health.
Common symptoms of mold include:
Crumbling drywall

Rotted wood

Visible mold spores

Breathing problems

Headaches

And more
One thing to keep in mind with mold is how easily the mold spores can spread through the air. For this reason, you should never try to clean the mold yourself. Once the spores spread, they can start a new colony thereby expanding the range of the mold infestation. The best chance you have for a successful mold removal lies in the hands of professionals who are trained in all aspects of mold remediation.
Due to the potential long-term damage, prompt and quick mold removal in Shelby County is necessary to keep your property and yourself healthy. We know that mold can happen at any time, which is why we make sure our IICRC certified techs are ready to handle your mold removal 24/7/365. Nothing but the best will do for your mold removal, which is why we only use the best equipment for your mold removal.
If you suspect or discover mold, don't wait. Call 911 Restoration today for your mold removal in Shelby County. We'll be there within 45 minutes of your call to deliver a Fresh Start.
Walking Through Mold Remediation
Over the years, we have honed our craft which allows our mold remediation efforts to be a straightforward process. Before unpacking any equipment, we start with our visual inspection to determine where all sources of mold contamination exist along with the necessary repairs. After getting our action plan approved by you, we get to work. Mold spores can travel through the air when agitated, which is why we use a specific protocol to minimize the spread while removing the mold.
We use the latest containment measures and vapor barriers to keep the mold completely contained. Once contained, we decontaminate the area with industrial grade detergents and cleaners. Finally, we remove the mold. Mold removal goes beyond the actual removal of the mold. As part of our process, we also make sure that the mold can't return.
We accomplish this by drying out the affected area taking away the breeding ground mold needs to thrive. A failure to dry out the environment is a failure to keep the mold from returning. That's why we don't cut any corners when it comes to your mold removal. It only takes 24 hours for mold to start growing in a damp environment. A quick response is your best bet to keep the mold contamination under control.
If you need mold remediation in Shelby County, call the techs at 911 Restoration. We'll be there for you every step of the way to bring a Fresh Start you can rely on.
Mold Sampling and Testing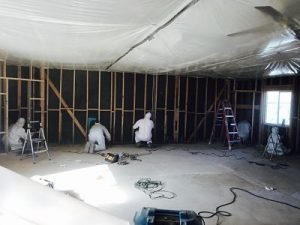 Mold that is left unchecked can cause a range of health problems. While the most common symptoms are headaches and breathing problems they are not the only health problems. Your risk goes up in the cases that the mold is actually toxic mold. One of the most common types of toxic mold is known as black mold. Black mold is potentially deadly and can cause your organs to shut down. Due to the serious nature of mold issues, we offer mold sampling and testing services.
Your health is a priority, which is why if health problems are reported we use a third party lab to rule out the possibility of toxic mold. Mold can affect property owners in a variety of ways and we offer comprehensive services to make sure you're covered from start to finish.
Our mold removal services include:
Free Visual Mold Inspection for Property Owners Only

Mold remediation

Mold Inspection & Sampling

Third Party testing

Structural Drying & Dehumidifying

And more
In addition to the physical components of mold remediation, we also work with you financially to make sure that everything remains stress-free. Our years of experience leaves us uniquely qualified to assist you with the insurance process. We will even file the insurance claim on your behalf if you elect to do so.
No matter how large or small your mold removal needs in Shelby County are you can count superior service from us. Call 911 Restoration today for all of your mold remediation concerns. You can count on us to arrive shortly working on a Fresh Start that has you breathing easier.